Hiiiii Derrick's followers!
My name is Jenny and I'm Derrick's summer suitemate and fellow foodie. Regrettably, I don't have the luxury of taking FCI courses or snagging ritzy reservations to places like Jean Georges, but I think I love food (and can write well enough) to match up to his food blogging 😀 I've baked all my life and have probably eaten more dessert batter than anyone you've met, but I'm now trying to expand my repertoire into cooking real dishes (and trying tonssss of new restaurants). Next step: recreating the exquisite chicken manicotti I once served to my family and hitting up either Gramercy Tavern or Giorgios of Gramercy…
Today I'm writing about Paprika in East Village. I've been there for brunch before, which was good but not fabulous (got the apple pancakes). I heard their dinner menu is better, so I decided to check it out when David told me to pick a dinner venue yesterday evening.
We arrived around maybe 7:20pm, and I was surprised that there was no wait, and that the restaurant was only about 60% full. Then I remembered they have a great prix fixe dinner for $12 that includes an appetizer AND entree, so perhaps that's when the crowd is. Or it could be that it was a Thursday night…
The atmosphere was nice—casual, but dimly lit and classy enough for a date. We were seated rather close to our neighbors, but were able to still maintain an intimate conversation.  First thing that came out was a basket of thickly-sliced bread and a tiny bowl of olives. The bread was pretty standard, but still realllly good, and the thickness of each slice really underscored the softness of the middle. I got pretty full from the bread alone. The olives, I wish, were bigger…
I ordered the Papperdelle with Braised Oxtail Ragu, a pretty popular dish from what I've heard. The pasta was cooked perfectly, and the meat very tender. I'm not sure what was in the tomato-based sauce, but I do wish it was a bit more flavorful. I ended up boxing some of this to take home and after finishing the rest up just now, I've concluded that it tastes better the day after haha.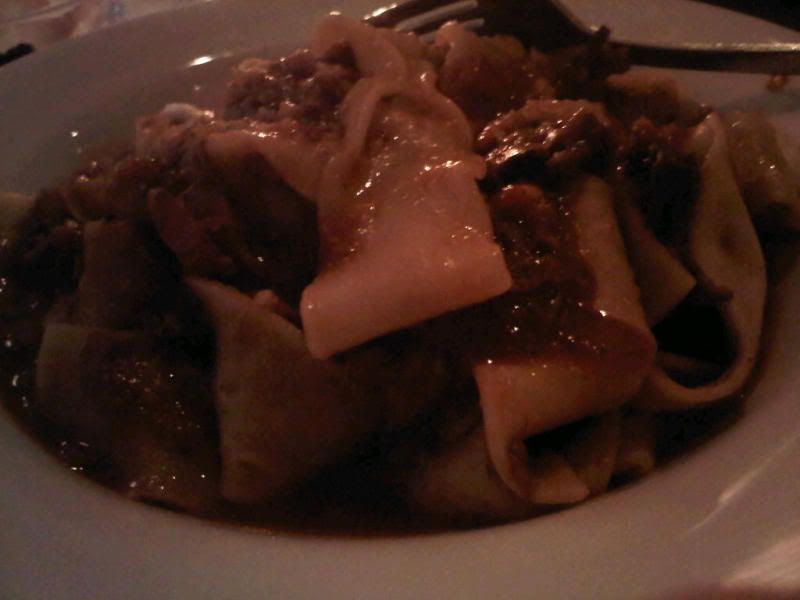 David got the Grilled Butcher Steak with Roasted Winter Vegetables (which was potatoes, onions and carrots). For me I think steak largely depends on how well you like your steak, and it's difficult to rate someone else's steak if you like yours done a different way. I prefer mine medium well, and David got his well-done, but I still thought the steak was juicy and delicious. The presentation and taste of the carrots could've been improved (who throws in a whole carrot like that?), but I really loved the wedges of potatoes.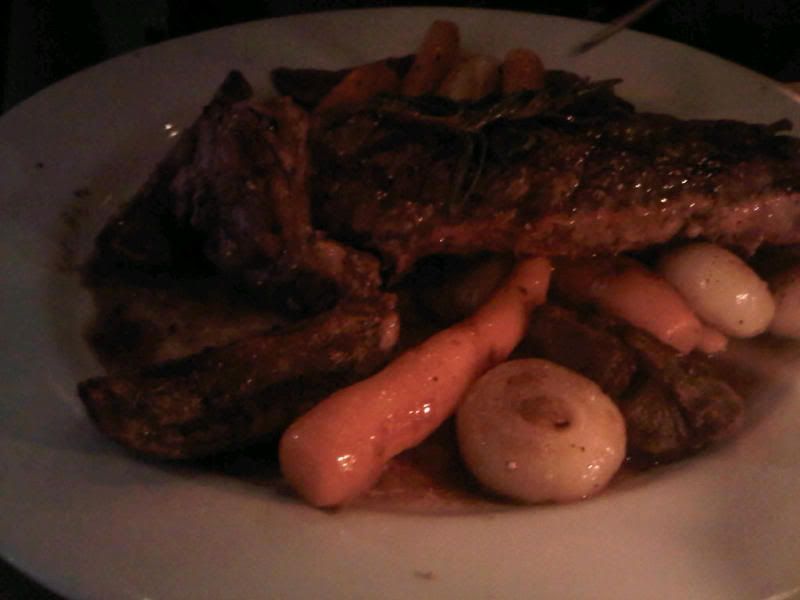 Overall, a lovely meal, and probably one of the better values you'll find in New York City. Paprika wasn't amazing, but it's some good affordable, reliable, Italian fare.
4/5 stars
Until-the-next-time-Derrick-lets-me-touch-his-divine-blog,
Jenny
Note from Derrick: Hmm will see whether Paprika is as good as you make it to be. Look out for my brunch review at Paprika.
Paprika
110 St Marks Place
(Between 1st Ave and Ave A)
(212) 677-6563
http://www.paprikarestaurant.com